While the waves were not big at all on July 10, 2022 (1-foot summer slop) three big wave legends were on a panel to talk about their experiences at the Rockaway Hotel as a fun and fundraising event for Surfrider Foundation, Surf for All, and Laru Beya.

The evening kicked off with host Tyler Breuer asking a representative from each of the charities to explain their mission and purpose. Aydon Gabourel spoke for Laru Beya, Moe Magali for Surfrider Foundation NYC Chapter, and Cliff Skudin for Surf for All. Tyler then had the big wave legends up for over an hour.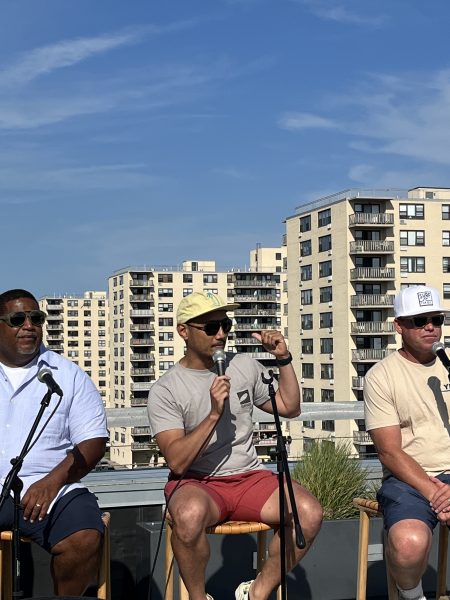 Grant Washburn is a legendary big wave surfer best known as a regular presence at Mavericks. With roots in the Northeast, he has called California home and has been charging big waves for 30 years.

Greg Long hails from San Clemente, CA and has been known as a big wave surfer for 20 years having won major big waves contests like the Eddie Aikau in Hawaii, and the Titans of Mavericks. He is also an Ambassador for the Surfrider Foundation and passionate about environmental causes.

Will Skudin is a Long Beach, NY who is considered the best big wave rider from the East Coast. With his brother Cliff they run Skudin Surf School. They are very active in supporting Surf for All, a non profit dedicated to helping people with disabilities enjoy the sport of surfing.

Tyler Breuer is a Long Island native and New York surfer. He was a founder of the NYC Surf Film Festival, the mind behind SMASH surf, and he now is a host of the Swell Seasons Podcast.

Tyler asked insightful questions of the panelists' early motivations, their worst wipeouts, and their interests and passions beyond big wave surfing. It was an evening to remember. Many participants left with raffle prizes and funds were raised for all these charities.